Professional drone video and drone photo for businesses and private
Drone video and drone photo can be used where a helicopter, elevator, crane or scaffold should be booked beforehand, it is more flexible and often cheaper to book us with drone and take pictures and make video.
Drone Footage
Using a drone, you can make the most amazing pictures and videos. They can just give you a point of view that you cannot otherwise come to.
With a drone you can get an overview that is unique, and you can use the pictures or videos both privately and professionally.
Order igaard.dk to make these drone recordings professionally.
Drone photo's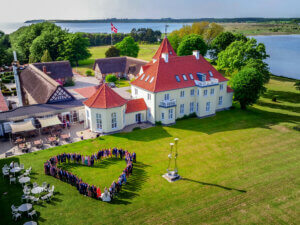 A photograph that is taken high above can give you a great overview from an unusual angle. This may be useful if you want a picture of your house and garden, or if you are a farmer or forest owner and have a very good overview of your land.
A drone photo can be fun to have, and it can be a really great help if you want an overview of your business. With an aerial view, you have the exact representation of all your square meters and their condition.
For fun and seriously
On the one hand, a drone photo can be fun to have. The unusual point of view can provide some interesting pictures. On the other hand, the pictures can be of great benefit.
As a matter of fact, it may be photos of your business, but it may also be a picture of an insurance damage, a flood, a lost ship, a runaway animal or something else.
Here's a drone inspection invaluable.
Drone video's
A drone video can of course film the same as a photo, but in addition, a video can show much more than some photos can.
It can provide the ultimate overview of a piece of land, a home, a business, a landscape and so on.
It's also possible to shoot other events such as a sports match, a concert, a show, a promotional video or anything you need to get busy.
Let igaard.dk launch small and big events that you would like to see a little from above with professional drones.
We do not only travel to all of Funen and surrounding areas, but also in the rest of Denmark, so if you have a drone photo or drone video job in Jutland or Zealand don't hessitate to contact us.
At IGAARD, of course, is Certified drone pilot from the Traffic, Construction and Housing Agency, and must fly with drone up to KAT2 for commercial drone flights.
This means, among other things, that we must legally and commercially carry out drone flights within urban settlements, close to public roads, human flights, etc.
Most drone video and drone photo tasks are unique, which may affect the price.
A drone task must be planned, beyond the planning meeting with you as a customer. know that I apply for permission at the various instances prior to a drone flight.
I also inform the police before the drone flight, and as a starting point this should happen to me. 24 hours prior to the drone flight, shorter deadlines can sometimes be done.
The weather in Denmark may in between be quite whimsical and may in bad weather (such as rain, snow, strong winds etc.) mean that a drone flight must be delayed, but then we will only find another time.
Drone photos and drone video footage can be used anywhere else where you will want to use a helicopter, elevator, crane or scaffolding.
Services for private and business can include:
Inspection (roof, gutters, chimney, building, wind turbine for example insurance damage and renovation).
Aerial view and video in bird's eye view if the property is to be sold.
Concerts, events, weddings, sports events, etc.
Video presentation of the company.
Insurance injuries.
Agriculture.
Drone film up to 4K.
Drone photo from DKK 1.000,-
Drone video with or without editing from DKK 2.100,-
Drone photos and drone video collected package from 2.700,-
Legal liability insurance is a matter of course with us, so the accident should be out, so you are covered by our insurance.
IGAARD ​​has a DJI Mavic 2 Pro which can fly for 3 x 30 minutes, and DJI Inspire 1 with Zenmuse X5 and X3 camera and can fly for 5 x 20 minutes without charging. We have access to several different types of professional drones, including: with redundancy, other camera and longer flight time if needed.